3 Things to Tell Your Dentist Before Getting Dental Implants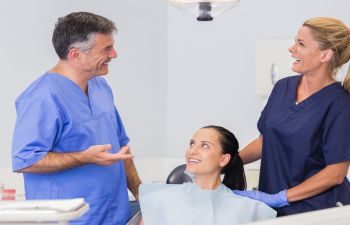 Are you considering dental implants to replace your missing teeth? While advanced imaging, your past dental records and cutting-edge diagnostic tools can tell your dentist numerous details about your candidacy for dental implants, there are some things you'll need to be upfront with your dentist about before your go in for oral surgery. It may not disqualify you from implants, but it can make a difference in how your dentist goes about your procedure or instructs you in terms of recovery. At Carolina Commons Dentistry, we want to know the following if you are considering implant dentistry:
#1 You smoke.
Dental implants carry an exemplary success rate. However, there are some hard and fast rules about smoking and getting dental implants. It is best to kick your habit all together if you plan on replacing your missing teeth with implants. However, if you can't commit to that, you'll need to plan on putting down the cigarettes for at least a number of days or weeks prior to surgery and afterwards. Nicotine is a vasoconstrictor, which means that your gum tissues can't get sufficient amounts of blood flow. This can greatly inhibit your body's ability to heal after placing implants, and the healing and fusing of the titanium post that takes place within your jawbone is critical to the implant's success.
#2 You have a medical condition or medical history that may affect your immune system or limit your body's ability to heal.
Your dentist may not always be aware of your medical history or a newly diagnosed condition or disease. While you may not consider it relevant to your oral health, there are conditions that can compromise your immune system, which affects the healing process after getting implants as well as influences your risk for complications. If you have diabetes, for example, you'll need to be sure it is well-controlled before going forward.
#3 You grind your teeth.
There are also habits that don't directly impact your dental implant surgery or healing, but can alter the lifespan of your dental implants. Teeth grinding is a good example. If you regularly grind your teeth during the night (or maybe your bed partner informed you of the habit), then you need to come clean with your dentist. It will be important to protect your implants and surrounding teeth from consequential damage. A nighttime guard may be recommended to help you get the most long-term return on your dental implants investment.
At Carolina Commons Dentistry, we allow ample time to meet with patients before scheduling dental implant surgery. We encourage patients to disclose all information about their overall health, lifestyle habits and medication. This will help you have a more comfortable recovery and more successful results in restorative dentistry.
Posted on behalf of Carolina Commons Dentistry