Bridging the Gap of Missing Teeth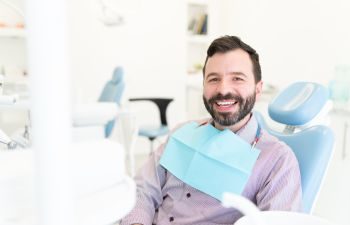 A missing tooth can quickly sabotage your self-confidence, particularly if it is in the front of your mouth. Even just a few missing teeth in your dental arch can also impact your speech and eating. Fortunately, restorative dentistry offers remarkable ways to replace missing teeth. A dental bridge may be just what you need to start showing off your smile again. Bridges are an excellent solution for those that have a large gap caused by one or a few teeth missing in a row.
Why Choose a Dental Bridge
Aesthetically speaking, well-constructed dental bridges are a beautiful way to replace missing teeth. More permanent than a partial denture, bridges can look as well as feel like natural teeth. A bridge can also be more affordable compared to multiple dental implants or a denture.
The bridge piece itself is called a pontic and made of porcelain pieces made to look like real teeth which fill the spaces left by missing teeth. The two abutment teeth are what attach the bridge in place on either side. They are prepared for crowning first, and then the bridge is attached and secured in place. In certain cases, dental implants are used on either side of the bridge. The implant crowns are attached to titanium posts anchored into the jaw bone. These posts replace natural abutment teeth if they are missing.
Which Type of Dental Bridge is Right for You?
The number of missing teeth and the condition of the anchoring teeth play into how the bridge is constructed. At Carolina Commons Dentistry, our dentists have the expertise to ensure that your bridge is constructed in the best way suited for your particular bone structure and dentition. Since bridgework does require special cleaning, we will walk you through the proper way to care for your new bridge. It does not take much more extra effort, however good oral hygiene is critical in preserving the integrity of the device. As long as your bridge is in good condition and retains its secure position, you can enjoy a long-lasting return on your restorative dentistry investment.
Regain the smile confidence you deserve after missing teeth. Call Carolina Commons Dentistry today to learn more about cosmetic dental bridges or other options in restorative dentistry.