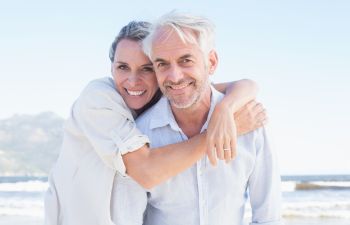 Taking care of your teeth and gums is important at all stages of life. However, for aging adults, dental care involves some unique challenges and needs. Seniors are at increased risk for certain oral health conditions, which makes strong dental hygiene and regular dental checkups a priority. Unfortunately, conditions like arthritis and even medication side effects can make dental care more challenging during this phase of life.
As an aging adult, you may be at risk for the following dental health issues:
Root Decay. All age groups are at risk for tooth decay. However, older adults are more likely to face decay on the root surfaces of the teeth. This is explained by the fact that tooth roots are more often exposed on seniors due to common gum recession as you age.
Darker or yellow teeth. Years of consuming dark-colored foods and drinks can cause tooth staining. However, aging adults have the additional culprit of changing dentin. As we age, our tooth enamel often wears thin and the yellow dentin layer of the teeth becomes more visible.
Sensitive Teeth. Also caused by gradual gum recession, it is common for seniors to suffer from increased sensitivity in their teeth when exposed to hot, cold, sweet and sour due to exposed tooth roots.
Dry mouth. One of the most prevalent oral health issues that seniors face is xerostomia, or dry mouth. Dry mouth is often a side effect of prescription medication. However, the reduced saliva flow can contribute to swallowing difficulty, tooth decay, bad breath and gum disease.
Missing Teeth. Dentures and dental implants are most commonly given to the aging population due to the prevalence of missing teeth at this later stage in life. Dentures and bridges require additional care and cleaning.
Diminishing Taste. Another common medication side effect that seniors experience is a decreased sense of taste. Your sense of taste can also be impacted by certain oral diseases as well as dentures. While this is not a health concern, it can be difficult to endure.
Gum disease. Gum disease is more common in patients older than 40. Poor oral hygiene is a likely culprit to periodontal disease, and we know that proper dental care can become more of a challenge for senior adults.
Achieving Optimal Oral Health as a Senior Adult
Dental care as a senior can certainly be challenging. Whether you have dexterity problems that prohibit you from brushing well or you have a chronic dry mouth due a prescription you are taking, you should know that there are ways to combat these challenges and still attain the optimal smile health you need. At Carolina Commons Dentistry, we specialize in dental care for seniors. We understand the unique needs that aging adults have when it comes to their teeth and gums, but we also value the importance that a health mouth has on overall health and well-being. Don't let your oral health concerns linger. Schedule your senior dental visit today by calling our office!
Posted on behalf of Carolina Commons Dentistry