Does My Chipped Tooth Really Need Repair?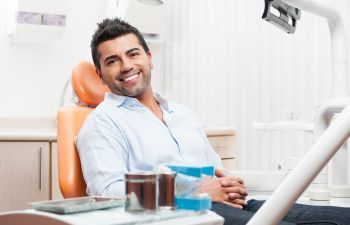 Your teeth are made from the strongest substance in your entire body. Unfortunately, that doesn't mean they are invincible. Whether it was from a bad fall or biting down on something too hard, the teeth can damage or chip from time to time.
You may be tempted to ignore a chipped tooth if it isn't causing pain or it's not visible when you smile. This can be a costly mistake. All types of tooth fractures need to be evaluated by a dental professional to rule out any underlying damage and to protect your tooth from further harm.
If the tooth fracture invaded the inner layer of your tooth, your tooth nerves may be exposed. This can not only cause significant pain and sensitivity, but it can leave your tooth especially vulnerable to bacteria invasion, disease and/or decay. A small fracture can also weaken the overall integrity of a tooth. Over time, the injured tooth may suffer further chips or breaks and cause more intensive repairs.
Treating a chipped tooth isn't as bad as you may think – in most cases. Minor chips and cracks can be repaired with composite resin bonding or fillings. This is a tooth-colored material that is applied in layers to the affected tooth and hardened by a special curing light. A dentist can offer bonding for tooth chips in one short office visit.
If your tooth chip is severe, you may need a root canal to cleanse the inner tooth and a dental crown to restore the tooth to optimal strength and function. Rest assured that regardless of what treatment your chipped tooth needs, it can be done with the highest attention to aesthetics. Modern dental materials mimic natural teeth in color and translucency.
At Carolina Commons Dentistry, we know that accidents happen. If you have suffered damage to a tooth or crown, we want to know about it as soon as possible. Call our Indian Land office today to schedule your same day appointment.
Posted on behalf of Carolina Commons Dentistry