Have Gingivitis? Eat This!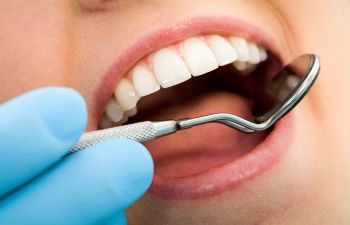 Did you know that nearly half of the United States population suffers from some form of gum disease? Fortunately, when periodontal disease is detected at its early stage, such as gingivitis, it can be treated and reversed. Beyond excellent oral hygiene habits and professional cleanings with your dentist, early gum disease can also be tackled with your diet.
Gum disease involves inflammation and infection within your oral tissues. It makes sense, therefore, that you can combat this condition with nutrients. If you've recently been diagnosed with gum disease or you've noticed signs of swollen, red or bleeding gums, consider adding the following to your diet to help fight back and stop gum disease progression:
Probiotics
Probiotics foster good bacteria inside your mouth, which helps to reduce the formation of plaque and gingivitis. Beyond probiotic supplements, you can find probiotics in kimchi, kefir and sauerkraut.
Nuts and Seeds with Omega-3
Omega-3s offer anti-inflammatory properties to reverse the effects of gingivitis. Consider sources that are rich in omega-3, such pistachios, macadamia nuts and sesame seeds.
Salmon
Salmon, mackerel and other "oily fish" are not only considered great sources of omega-3s, but their oil content is responsible for their anti-inflammatory properties in the body and boosts the immune system.
Grass-fed Beef
Grass-fed beef has collagen, which helps to fight gum diseases. They also have high omega-3s, which is why many nutritionists and health experts are picky about the choice of cow feeds. Grain-fed beef has antibiotics, omega-6s, and other inflammatory disease-causing elements.
Cacao
Cacao is known for its disease-combating catechins, which helps prevent gum disease. Cacao offers high value to your smile, as it also helps to harden your tooth enamel, fights against plaque accumulation and reduces cavities. Consider raw chocolate of up to 70 percent or higher to reap the dental benefits without the added sugar!
Green Tea
Green tea is another source that is high in gingivitis-fighting catechins. A recent study found out that people who drank green tea were less susceptible to developing gum disease.
Call Your Trusted Indian Land Dentist Today!
Keep in mind that your diet is just one way to help fight gum disease. Your oral hygiene efforts and professional oral care come first. If you want to learn more about stopping early gum disease before it causes serious consequences, call Carolina Commons Dentistry.
Posted on behalf of Carolina Commons Dentistry