How Dental Implants Prevent Premature Aging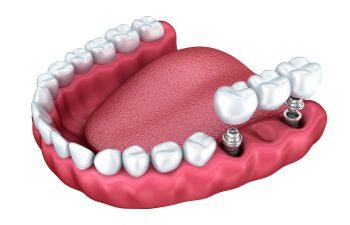 You may already know that dental implants are the preferred solution to restoring the function and appearance of a smile with missing teeth. However, you may not realize that dental implants also address another major concern from missing teeth: bone loss.
Missing Teeth and Bone Loss
The jawbone needs repeated stimulation in order to hold its volume and structure. This happens naturally during chewing and speaking if your teeth are in place and secured to your jawbone. Unfortunately, when you lose one or more teeth, the jawbone no longer gets stimulated and begins to lose its density and form. Over time, this leads to facial collapse and premature aging due to a hallowed lower face.
If you think you have some time to kill before bone loss occurs after a missing tooth, think again. The latest research suggests that 25% of bone loss occurs during the first year of losing a tooth!
Why Dental Implants are the Only Solution
People with missing teeth cannot choose just any tooth replacement option to stop premature aging and bone loss. Dentures and bridges may help you chew and speak better, but your jawbone doesn't know that you have replaced your missing teeth.  Dental implants are the only way to properly stimulate your jawbone and avoid bone loss. With dental implants, a titanium post is surgically implanted to act as your tooth root. This procedure is successful as long as the implant fuses to your jawbone and heals.
The next time you consider ignoring your missing teeth or choosing another alternative besides dental implants to replace them, think about your overall facial structure.  A sunken jaw can add years to your appearance! Call Carolina Commons Dentistry to learn more.
Posted on behalf of Carolina Commons Dentistry