Is Stress Affecting Your Oral Health?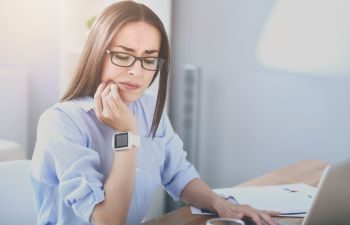 For most of us, stress is hard to escape. Stress takes its hold on us as we work to maintain relationships, boost our careers, manage our homes or digest a nationwide pandemic. Unfortunately, stress puts strain on both our mental and physical health. While you may be aware of the way stress impacts your heart or digestive system, chronic stress can also threaten your oral health.
If you've been especially "stressed out" lately, consider the following ways in which your oral health may be responding:
Gum Disease and Cavities
Chronic stress can contribute to two of the most common (and detrimental) dental problems. People tend to slack off on their oral hygiene routine, regular dental checkups and healthy eating habits when they are tired, stressed and running at full capacity. The increase in sugary or carb-rich snacks and lack of brushing at night can create the perfect environment for periodontal disease and tooth decay.
Jaw Issues
If you clench your teeth, chew on pencils or bite your nails during times of stress, you are not alone. However, these oral habits can be very harmful on your jaw joint, or TMJ. In fact, TMJ issues like jaw pain, jaw popping or even tension headaches are often traced back to bruxism. This is a stress-induced habit that you may not even be aware you are doing, but it can wreak havoc on your oral health.
Mouth Sores
For many, the eruption of a mouth sore or fever blister can be an obvious warning sign that your body is under too much tension and stress. Mouth sores can develop when your immune system is low and your body is tired, which happens during extended periods of emotional upset or stress.
At Carolina Commons Dentistry, we realize how stress negatively impacts your oral health and overall health. We also understand how difficult it is to take stress out of your life. However, for the sake of your health and your smile, we encourage you to recognize the warning signs that your mouth is giving you that you need to slow down and relax. If you are concerned that your heightened stress has already affected your dental health, we can help. Call Carolina Commons Dentistry today!
Posted on behalf of Carolina Commons Dentistry