Questions about Dental Implants?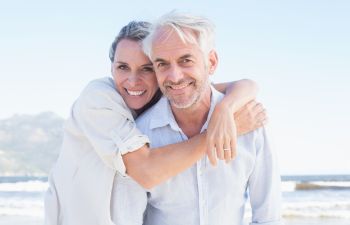 If you have missing teeth, you've probably heard of dental implants. Implants are the most modern and preferred solution in restorative dentistry. However, they require a larger upfront sacrifice compared to traditional dentures and bridges. In doing so, many patients are hesitant to commit to dental implants until they fully understand how they work and why they are considered the best choice. At Carolina Commons Dentistry, we want to answer your implant dentistry questions and help you feel confident about this gold standard method of teeth replacement:
How Do Dental Implants Work?
Dental implants are meant to act like your natural tooth roots. They represent a small titanium post or screw that is surgically implanted into your jawbone. Over time, the implant will heal and fuse to the surrounding bone through a naturally-occurring process called osseointegration. It is then time for your implant to anchor a prosthetic tooth or teeth. An abutment and implant restoration (crown bridge or denture) is attached to the implant above the gum line to create your permanent replacement smile. One that looks, feels and functions like real teeth.
Why Are Dental Implants the Best Solution?
Dental implants have the unique ability to be anchored into your jawbone and provide a permanent solution. They should be indistinguishable from your previous or other existing teeth in terms of function, aesthetics and maintenance. Implants are also the only restorative dentistry method that keeps your bone tissue healthy and strong to help you avoid a sunken facial appearance over time.
Who Can Get Dental Implants?
Many patients qualify for dental implants. However, since the healing process is so vital to their success, it is important that patients are in good overall health. Viable bone tissue is also required to ensure that the implants will stay rooted and strong. Therefore, to avoid bone grafting before dental implant surgery, it is best to get dental implants soon after you've lost your tooth or teeth.
How Long Will Dental Implants Last?
Unless you are young when you received them, dental implants are expected to last a lifetime. Keep in mind that the restoration or crown on top of the implant may need repair or replacement after several years, but this is a non-invasive and quick intervention. To ensure you get the lifespan that your dental implants promise, make sure to see your dentist on a regular basis and stay diligent with your oral hygiene at home.
Schedule Your Consult in Indian Land
Have more questions about how the dental implant process works in your particular case? Call Carolina Commons Dentistry. We are here to make implant dentistry a seamless and highly-rewarding solution for your missing teeth.
Posted on behalf of Carolina Commons Dentistry