Ready to Upgrade Your Dentures with Dental Implants?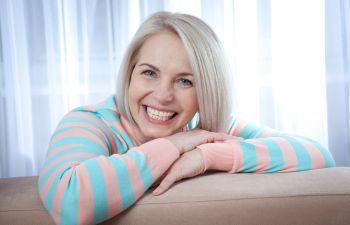 When it comes to replacing a full set of missing teeth, dentures are still a very common choice. Many patients choose removable dentures to avoid the extra time and expense of dental implants. Unfortunately, traditional dentures don't work out for everyone. Whether you hate dealing with messy adhesive creams, struggle with ill-fitting dentures or simply haven't been able to adjust to their limited stability, dental implants can be the best next step.
Many patients opt to upgrade their traditional dentures to a more comfortable solution using dental implants. Instead of using adhesive cream to secure your dentures, you can choose to anchor your dentures with a set of dental implants that are surgically placed into your jawbone just like tooth roots. Implant dentures offer several advantages that go beyond comfort and stability. They are the only denture option that prevents bone loss in the jaw, which can lead to premature facial collapse and a change in the way your dentures fit over time. Implant dentures look, feel and function just like your natural teeth!
What to Expect With Your Dental Implants Transition
The process always begins with a simple consultation with one of our experienced implant dentists at Caroline Commons Dentistry. We can determine if you qualify for implants and explain what you can expect to achieve this new smile goal. Using the advanced All-on-4 implant dentures, we can secure an entire arch of prosthetic teeth with just four strategic dental implants in most cases. Keep in mind that dental implants require an oral surgery and a dedicated healing period to allow the titanium post to fuse to your jawbone.
If you like the look of your current dentures but are not happy with their fit and feeling, implant supported dentures can help you gain full satisfaction in your replacement teeth. Based on the status of your current oral health and overall health, we can give you a more accurate timeline of switching from traditional dentures to implant dentures. Call our Indian Land office today to learn more about our excellence in restorative dentistry!
Posted on behalf of Carolina Commons Dentistry