Reasons for Tooth Pain Under Your Dental Crown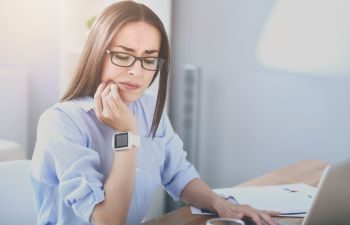 Dental crowns are one of the most common treatments in dentistry. They can encase and restore a tooth that has been compromised due to severe infection, decay or trauma. Each crown is customized in shape, size and color to blend seamlessly with your natural smile. In some cases, a dental crown is placed for cosmetic reasons. Regardless of the reason you needed a dental crown, it can be upsetting to feel sudden pain in a tooth that was recently crowned.
While dental crowns are remarkably successful as a long-term solution, they are not always perfect. There are many reasons why you may suffer from a toothache underneath your new dental crown, including the following:
Crown not properly fitted
Crown made of materials that are irritating to your gums
A cracked or loose dental crown
Dental infection under crown
Tooth decay under the crown
While mild sensitivity is typically normal just after your crown was placed due to the irritation of the gums, you should never ignore throbbing tooth pain that lingers underneath your dental crown. It can be disruptive to live with as well as lead to more serious complications within your oral health.
At Carolina Commons Dentistry, we want to know about your dental crown pain as soon as possible. There may be things you can do at home to relieve your pain, but we typically like to see you in the office to ensure your dental crown doesn't need removal and replacement. Dental restorations are a notable investment towards your smile appearance and comfort. Therefore, we want to make sure your crown is problem-free. Contact our Indian Land dental practice today if you have a toothache underneath or surrounding your dental crown.
Posted on Behalf of Carolina Commons Dentistry