Recognizing a Dental Abscess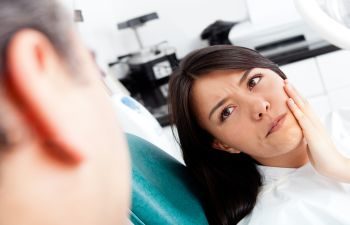 A dental abscess rarely goes unnoticed. It is a pocket of pus in or around a tooth that is caused by a bacterial infection. Unfortunately, dental abscesses can be quite uncomfortable. You may notice that your tooth is very sensitive to hot and cold foods and biting down can cause you to wince in pain. Swelling and redness may be present along the gums and a foul taste may also exist in your mouth when you have a dental abscess. If the infection progresses, it is not uncommon to experience pain in the jaw, face and neck.
Just like any infection in your body, an infection in your mouth needs to be addressed promptly. Not only can the infection cause your tooth to die or trouble in other parts of your body, but the pain will only get worse if it is not treated properly. Therefore, if you suspect you have an abscessed tooth or an infection brewing in your mouth, call your dentist immediately. This type of concern warrants a same-day appointment.
Types of Dental Abscesses
What you may not know is that not all dental abscesses are the same. A skilled dentist and proper imaging can determine which type of infection you have and how to treat it. Typically, a dental abscess will present itself in one of three main types:
Gingival Abscess: This type only involves the gums, not the tooth or periodontal ligaments that attach to the tooth.
Periodontal Abscess: This is an infection between the teeth and gum due to bacteria and plaque buildup under the gum line.
Periapical Abscess: The most common type of dental abscess that occurs when decay has attacked the tooth and the bacterial infection has reached the inner tooth pulp and nerves.
Call a Dentist Without Delay
At Carolina Commons Dentistry, we do our best to help patients avoid painful dental infections. Ideally, excellent oral hygiene habits and regular visits to your dentist will prevent any type of abscess from developing in your mouth. However, dental pain of any kind must be investigated. When the discomfort is due to an infection, your overall health is at stake. Call today to learn more about how we can detect and treat your dental abscess.
Posted on behalf of Carolina Commons Dentistry