Recognizing and Treating Nightly Teeth Grinding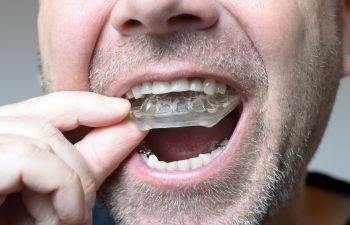 Are you waking up with a sore jaw or tension headache? These are telltale signs that you are grinding your teeth while you sleep, otherwise known as bruxism. Bruxism is a common oral habit, but one that can wreak havoc on your oral health and quality of life over time. The trouble with teeth grinding, unfortunately, is that many patients do it subconsciously while they sleep. Other patients may clench or grind their teeth unknowingly while they are exercising, lifting heavy objects, driving or simply concentrating very hard. Regardless of the reason for your bruxism habit, you'll need to know how you can protect your smile and stop the disruptive consequences.
Bruxism puts tremendous pressure on your teeth as well as your jaw joint (TMJ), which eventually strains the surrounding muscles and ligaments and can lead to symptoms beyond the jaw including headaches, facial pain, ear pain, neck stiffness and trouble opening and closing your mouth. Nightly teeth grinding is also associated with visible damage to your teeth (worn down teeth). In some cases, the teeth can start to shift out of place.
How to Treat Bruxism
Treatment can look different for each patient. For example, bruxism has been shown to be induced by stress. Therefore, some patients may find that relaxation techniques are all that is needed to help their jaw calm down before bed. Others may have acute flare-ups that are relieved by over-the-counter anti-inflammatories. However, it is not uncommon for patients to need professional help for chronic teeth grinding.
An occlusal appliance is considered the best method of treating bruxism at night. This typically takes the form of a nightguard or splint that is custom-made to fit your mouth. In doing so, it can protect your teeth and reduce jaw pain and other daytime symptoms when worn during your nighttime sleep.
Are you worried that you are grinding or clenching your teeth during the night? We can help you at Carolina Commons Dentistry. Call our Indian Land office today to schedule your Bruxism Treatment.
Posted on Behalf of Carolina Commons Dentistry