The Consequences of Missing Teeth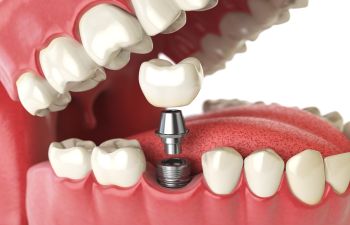 Did you lose an adult tooth? You may think that you have more than enough teeth in your mouth to chew your food and speak properly. However, every permanent tooth (except for wisdom teeth) serve a significant purpose in the mouth. Even one missing tooth can lead to consequences within both the health and appearance of your smile. While tooth loss is sometimes out of your control, all missing teeth need to be replaced. Tooth replacement can be accomplished with dental implants, bridges and dentures depending on your needs and preferences.
When a tooth goes missing, a chain of unwanted events is put into motion. Surrounding teeth begin to shift out of place as they migrate towards the empty space. This not only creates misalignment, but it can cause tight spaces between your teeth that make cleaning more difficult. This is why some patients find themselves at high risk for decay and gum disease after missing teeth.
Another surprising and undesirable outcome of missing teeth is bone loss. Your jaw bone must be stimulated in order to retain its density and form. This is done through chewing and biting. However, when a tooth is lost, the tooth root is no longer there to stimulate the jaw. Thus, the jaw loses its form and can even cause changes within your facial shape as the lower face sinks in.
Depending on where your missing teeth are located, your speech and appearance can also be greatly affected. Front missing teeth can make it difficult to pronounce certain syllables and they can certainly pose a threat to your self-esteem. Tooth loss can bring on a host of challenges in terms of function, appearance and health!
Why Dental Implants Are the Best Choice
As noted above, there are many ways to replace missing teeth. However, there is only one solution that solves all of the consequences of missing teeth. Dental implants involve the replacement of the tooth as well as the tooth root. This not only gives your prosthetic tooth or teeth unrivaled stability, but it means that your jaw bone can be properly stimulated. Thus, dental implants allow patients to avoid bone loss after missing teeth. Fortunately, dental implants are highly versatile and can be used for single tooth replacement as well as full arch of missing teeth using implant supported dentures.
At Carolina Commons Dentistry, we proudly deliver excellence in restorative dentistry. When it comes to missing teeth, we offer the latest and most proven solutions in implant dentistry. We welcome the opportunity to rebuild your smile and help you avoid the devastating setbacks of missing teeth.
Posted on behalf of Carolina Commons Dentistry