The Impact of Osteoporosis on Your Oral Health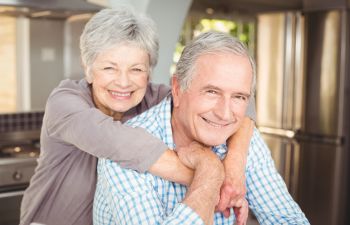 By next year, it is predicted that more than half of the American population over the age of 50 will suffer from osteoporosis. This condition is marked by weak, fragile and less dense bones and commonly plagues the aging population. While osteoporosis is most often associated with a "hunched over" appearance and frequent fractures in the hips or wrists, it can also impact your oral health.
How Osteoporosis Affects Dental Health
While your teeth are not considered bones, the jaw that supports them does include a very important set of bones. Osteoporosis isn't exclusive as far as which bones are affected. Therefore, your jawbone can lose density and strength if you suffer from osteoporosis, which in turn causes your teeth to lose stability. This can lead to tooth loss or ill-fitting dentures. In fact, for denture wearers that have osteoporosis, the bony ridge of the gums that hold the dentures in place can change shape and form, which can cause the need for frequent denture relines and uncomfortable instability.
In addition to tooth loss and ill-fitting dentures, a loss of jaw bone can also change the shape of the lower face and cause the gums to recede or detach. In fact, your lower face may begin to sink in and cause you to look older than you really are. Although the dental health effects of osteoporosis are more likely to affect women than men, everyone is at risk for this bone condition Therefore, it is important to be aware of the signs throughout your body and in your mouth.
Preventing Osteoporosis
Osteoporosis is not inevitable and it doesn't have to affect your dental health if it is caught and treated early. Even if you weak bones are in your genetics, there are still things you can do to keep your bones strong as you age, including the following:
Get adequate Vitamin D.
Consume extra calcium, especially from foods!
Exercise regularly, focusing on weight-bearing activities and balance.
Avoid excessive smoking and alcohol consumption.
Schedule bone density screenings.
Report signs of gum detachment, ill-fitting dentures and loose teeth to your dentist.
Trust a Dentist Who Specializes in Senior Dentistry
Carolina Commons Dentistry is uniquely equipped to provide senior dentistry services, which includes special monitoring for symptoms that commonly plaque the aging population. We welcome the opportunity to educate patients on preventing bone loss and treating signs of osteoporosis before they impact your smile.
Posted on behalf of Carolina Commons Dentistry