The Valued Benefits of Dental Implants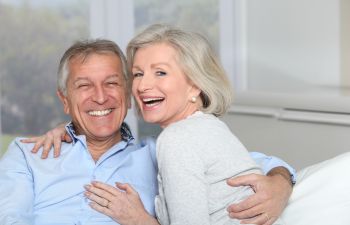 Dental implants are the most proven and preferred method for replacing missing teeth. They can be used to replace a single missing tooth or a full arch of missing teeth. However, the versatility of dental implants is just one of the remarkable benefits they can offer to patients who need restorative dentistry.
How Do Dental Implants Work?
Regardless of the reason you lost your teeth, you can feel confident that dental implants can replicate your natural smile better than any other treatment option in modern dentistry. Dental implants are unique in that they can replace the missing tooth as well as the missing tooth root. Implants involve the surgical placement of a titanium post into the jawbone. Over time, the implant fuses to the surrounding one and is ready to anchor a prosthetic tooth or teeth just like a tooth root. Depending on your clinical needs, an implant restoration can include a crown, bridge or denture.
Implants Can Improve Health, Confidence and Quality of Life
Since dental implant can offer remarkable stability to a prosthetic tooth, they can also deliver significant benefits towards your oral health, your overall health and even your quality of life. Here are some top reasons to consider dental implants:
#1 Self-Confidence: Implants can fill in the gaps of your smile for a more attractive appearance, but they can also eliminate the worry of your prosthetic teeth becoming loose or falling out. The security and natural appearance of implants means improved self-confidence for patients.
#2 Dietary Freedom: When dental implants are used to anchor a denture (instead of denture adhesive cream), patients can eat a diverse, nutrient-rich diet knowing they have a stable set of teeth. Implant-supported dentures allow you to eat hard-to-chew foods like raw vegetables, fruits and meats, which are essential for optimal body health at any age.
#3 Prevent Premature Facial Aging: Without a tooth root to stimulate your underlying jawbone, the bone can lose its density and form. This can create a sunken appearance in the lower face, otherwise known as premature facial aging. Dental implants are the only form of tooth replacement that helps prevent bone loss!
Schedule Your Consult at Carolina Commons Dentistry
Ready to learn your candidacy for dental implants? Call Carolina Commons Dentistry. We are a top ranked dental practice that caters to senior adults and the dental services they need at this stage of life. For your convenience, we proudly provide complete implant dentistry at our office.
Posted on behalf of Carolina Commons Dentistry