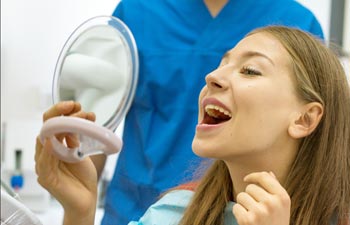 Did you know that tooth decay is one of the most prevalent chronic diseases in the United States? You may assume that cavities are a childhood problem, but every age group is susceptible to this serious dental health issue. Dental decay can lead to pain and discoloration within your smile, as well as tooth loss if not treated in a timely manner. In fact, timing is critical. The earlier a cavity is detected, the more conservatively it can be treated. In some cases, a very early cavity can be reversed!
How Does a Cavity Form?
A cavity is essentially a breakdown of enamel, which is the outermost layer of your tooth. This develops due to a combination of bacteria and food in your mouth. But not just any food. Foods that are rich in carbohydrates and sugar are the perfect recipe for decay. As oral bacteria feed on these sugars in your mouth, they make acids. The acids attack your teeth for 20 minutes or more after eating. If not removed from your teeth, these acids continue to eat away at your tooth enamel until a hole (or cavity) has formed. This hole grows wider and deeper the longer it is left untreated.
Knowing You Have a Cavity
We know that early detection is key when treating a cavity. However, if you wait for outward signs, such as pain/sensitivity, white spots on your tooth or bad breath, it may too late for early reversal or conservative treatment. Cavities at their early stages typically do not produce symptoms. However, your dentist has the equipment and expertise to detect decay when you can't. This makes routine dental visits a critical part of your oral health care and cavity prevention plan.
The Good News – It's Preventable!
While most cavities can be repaired with a dental filling, you can avoid the need to have this procedure if you prevent cavity formation in the first place. That's the good news – though tooth decay is one of the most common oral conditions, it is also one of the most preventable. We are told to brush twice a day and floss daily for a reason, as this is the number one thing you can to do keep cavities away. In addition, a professional dental cleaning every six months ensures your teeth and gums are cleaned in ways that your home toothbrush cannot perform.
If you notice signs of tooth decay or need early cavity detection, we can help you at Carolina Commons Dentistry. We offer complete preventative care as well as tooth-colored fillings and other types of dental restorations when the damage has already been done.
Posted on behalf of Carolina Commons Dentistry