Why Get a Full Mouth Reconstruction?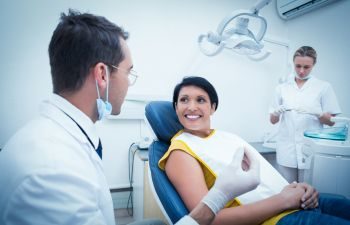 It can be difficult to keep a perfect smile through all stages of life. Dental problems can involve issues that pertain to your oral health as well as those that impact your smile appearance. When there are severe or multiple dental issues going on at once, a full mouth reconstruction may be recommended.
While a full mouth rehabilitation, or Full Mouth Reconstruction, can seem intimidating in terms of time, discomfort and cost, it is also a life-changing procedure for patients who need it. Full mouth reconstruction is designed to address a number of dental issues at once and restore the appearance and health of your smile. This may include repairing damaged teeth and gums, replacing missing teeth or improving the size, color and position of the teeth. A full mouth reconstruction is not the same as a smile makeover, which is purely cosmetic in nature.
What Does a Full Mouth Rehabilitation Entail?
Every patient is different. First and foremost, a full mouth reconstruction will restore the health and condition of your teeth and gums, especially when you have several teeth missing or badly damaged. This procedure will also include services to enhance the final appearance of your smile, so both cosmetic and restorative dental services may be involved. Depending on your unique needs and goals, a full mouth reconstruction can include some of the following:
Dental Crown
Dental Bridges
Dental Implants
Inlays or Onlays
Porcelain Veneers
Cavity Treatment
Dentures
Bone Graft Treatment
Root Canal Therapy
Professional Level Teeth Whitening
Dental Bonding
Orthodontic Braces
Scaling and Root Planing
Composite Bonding/Fillings
All of these are different names and procedures in the dental world but are holistically performed together as a part of Full Mouth Rehabilitation. The reward is a healthy and attractive smile!
Benefits of Getting a Full Mouth Rehabilitation Treatment
While a full mouth rehabilitation can demand extensive dental procedures, it also delivers a significant and long-term return on your investment. This comprehensive treatment is known for several valued benefits, including:
Cure headaches/migraines
Treat and reverse gum disease
Boost strength and integrity of teeth
Improve oral health and overall health
Reduce jaw issues and jaw discomfort
Enhance self-confidence and smile appearance
Create dietary freedom/better chewing function
Improve speech
Save dying teeth
At Carolina Commons Dentistry, we recognize those who can benefit from a full mouth reconstruction. We will always tailor dental services to the unique needs and concerns of each patient. If you are undergoing a full mouth reconstruction, you can expect to be kept comfortable and informed at every step of the process.
Whether it was a dental concern you were born with or an oral health issues that occurred over time, we won't let your past dental experiences define your future smile. Contact us today to learn more about what a full mouth rehabilitation can do for you. Our dentist is known for his excellence in restorative dentistry!
Posted on behalf of Carolina Commons Dentistry